Sur boingboing :
Government accidentally sends file on « remote mind control » methods to journalist
Lorsque le journaliste Curtis Waltman a déposé une demande de Freedom of Information Act auprès du Washington State Fusion Center (partenaire de Department of Homeland Security) pour obtenir des informations sur les groupes antifa et suprémacistes blancs, il a obtenu un bonus  en plus que les informations qu'il cherchait.
Il a reçu accidentellement un dossier mystérieux sur les « armes psycho-électriques » avec l'étiquette « EM effects on human body.zip« . Le dossier comprenait des méthodes de « contrôle à distance de l'esprit ».
Des images effrayantes comme celles-ci ont été incluses :
Alors, qu'est-ce qui se passe ?
Par l'intermédiaire du Daily Beast :
Selon Muckrock, une organisation à but non lucratif qui publie des informations gouvernementales recueillies par le biais de demandes de FOIA, les documents de contrôle de l'esprit proviennent de l'agence liée à la sécurité intérieure du ministère de la Sécurité intérieure sous la forme d'un fichier appelé « EM effects on human body.zip ». Le fichier contiendrait divers diagrammes détaillant les horreurs des « effets d'armes psycho-électroniques ».

Un diagramme énumère les différentes formes de tourments qui seraient rendues possibles par les méthodes de contrôle de l'esprit à distance, depuis « l'effacement forcé de la mémoire » et « les démangeaisons violentes et soudaines à l'intérieur des paupières » jusqu'au « fléau sauvage » suivi de « rigor mortis » et d'un « orgasme forcé » induit à distance. on ne sait pas comment les documents se sont retrouvés dans la réponse de l'agence, à une demande standard de FOIA, mais il n'y avait aucune indication que les fichiers de « contrôle à distance de l'esprit » provenaient d'un programme gouvernemental.
Et selon Popular Mechanics :
Le gouvernement fédéral a absolument expérimenté le contrôle des esprits dans une variété de méthodes, mais les documents ici ne semblent pas être officiels.

Waltman n'avait aucune idée de la raison pour laquelle ces documents ont été inclus dans sa demande et ne sait pas pourquoi le gouvernement les détient. La WSFC n'a pas répondu aux demandes de renseignements supplémentaires.
Aussi amusantes que soient les théories de conspiration, Muckrock ne croit pas que les images sont du « matériel gouvernemental ».
L'une semble provenir d'une personne nommée « Supratik Saha », identifiée comme ingénieur logiciel, la lame de cartographie cérébrale n'a pas de source, et l'image du corps agressé par des armes psychotroniques provient de raven1.net, qui n'a apparemment pas renouvelé son domaine.
Muckrock a lancé un appel à la WSFC mais n'a pas encore eu de nouvelles.
Plus de détails Muckrock
---
Government accidentally sends file on « remote mind control » methods to journalist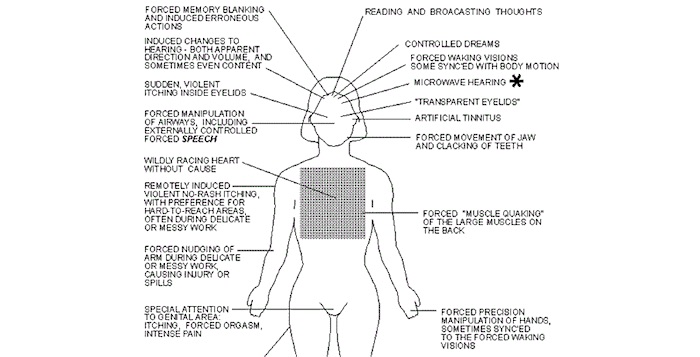 When journalist Curtis Waltman filed a Freedom of Information Act request with Washington State Fusion Center (which is partnered with Department of Homeland Security) to obtain information about Antifa and white supremacist groups, he got more than the information he was looking for – he also accidentally received a mysterious file on « psycho-electric weapons » with the label "EM effects on human body.zip." The file included methods of « remote mind control. »
Creepy images like these were included:
So what gives?
Via the Daily Beast:
According to Muckrock, a nonprofit that publishes government information gathered through FOIA requests, the mind-control documents came from the Department of Homeland Security-linked agency in the form of a file called "EM effects on human body.zip." The file reportedly contained various diagrams detailing the horrors of "psycho-electronic weapon effects."One diagram lists the various forms of torment supposedly made possible by using remote mind-control methods, from "forced memory blanking" and "sudden violent itching inside eyelids" to "wild flailing" followed by "rigor mortis" and a remotely induced "forced orgasm." It was not immediately clear how the documents wound up in the agency's response to a standard FOIA request, but there was reportedly no indication the "remote mind control" files stemmed from any government program.
And according to Popular Mechanics:
The federal government has absolutely experimented with mind control in a variety of methods, but the documents here do not appear to be official.

Waltman had no idea why these documents were included in his request and isn't sure why the government is holding them. The WSFC did not respond to requests for more information.
As fun as conspiracy theories are, Muckrock doesn't believe the images are « government material. »
One seems to come from a person named "Supratik Saha," who is identified as a software engineer, the brain mapping slide has no sourcing, and the image of the body being assaulted by psychotronic weapons is sourced from raven1.net, who apparently didn't renew their domain.
Muckrock put out a call to WSFC but hasn't yet heard back from them.
For more details, go to Muckrock.