https://www.wired.com/2008/05/army-removes-pa/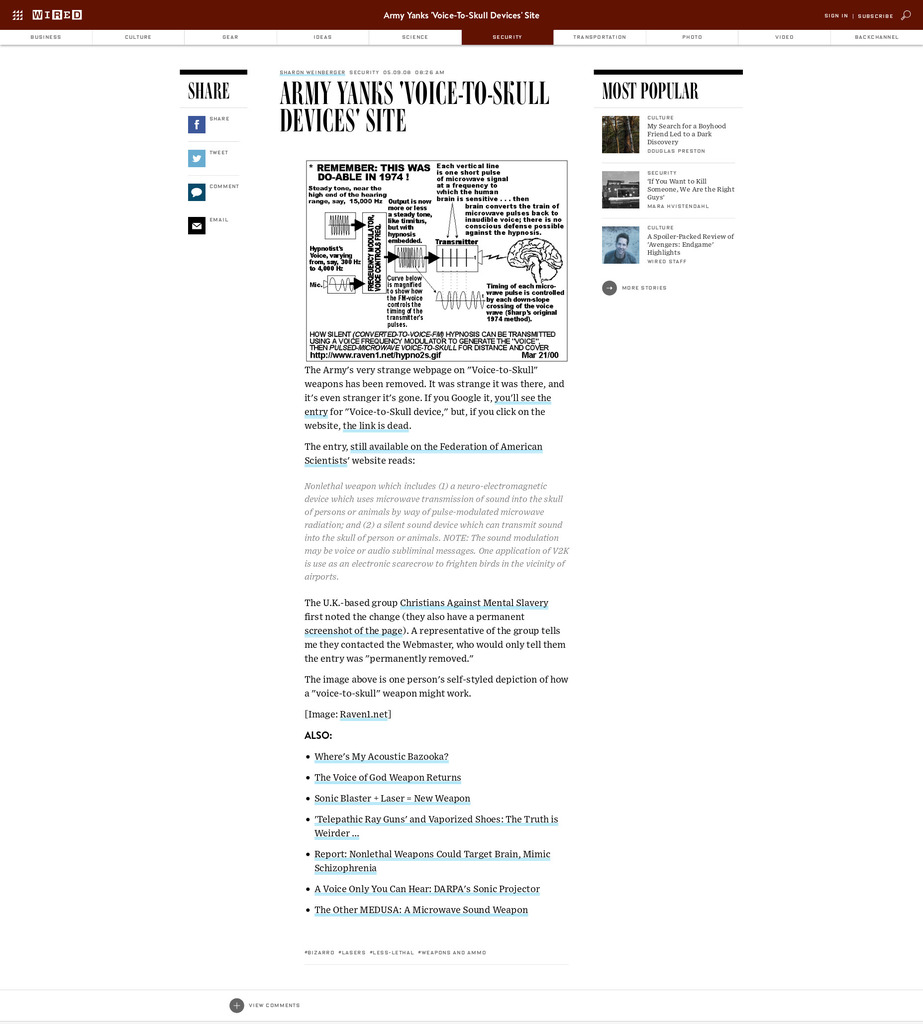 ---
TRADUCTION
La très étrange page web de l'armée sur les armes « Voice-to-Skull » a été supprimée. C'était étrange qu'il soit là, et c'est encore plus étrange qu'il soit parti. Si vous le recherchez sur Google, vous verrez l'entrée pour « Voice-to-Skull device », mais, si vous cliquez sur le site, le lien est mort.
L'article, toujours disponible sur le site Web de la Federation of American Scientists, se lit comme suit :
Arme non létale qui comprend (1) un dispositif neuroélectromagnétique qui utilise la transmission par micro-ondes de sons dans le crâne de personnes ou d'animaux au moyen d'un rayonnement micro-ondes modulé par impulsions ; et (2) un dispositif sonore silencieux qui peut transmettre les sons dans le crâne de personnes ou d'animaux. REMARQUE : La modulation sonore peut être des messages vocaux ou audio subliminaux. Une des applications de V2K est l'épouvantail électronique pour effrayer les oiseaux à proximité des aéroports.
Le groupe britannique Christians Against Mental Slavery (Chrétiens contre l'esclavage mental) a noté le changement pour la première fois (ils ont aussi une copie d'écran permanente de la page). Un représentant du groupe me dit qu'ils ont contacté le webmestre, qui leur a seulement dit que l'entrée était « définitivement supprimée ».
L'image ci-dessus est une représentation autoproclamée par une personne de la façon dont une arme « voix vers crâne » pourrait fonctionner.
---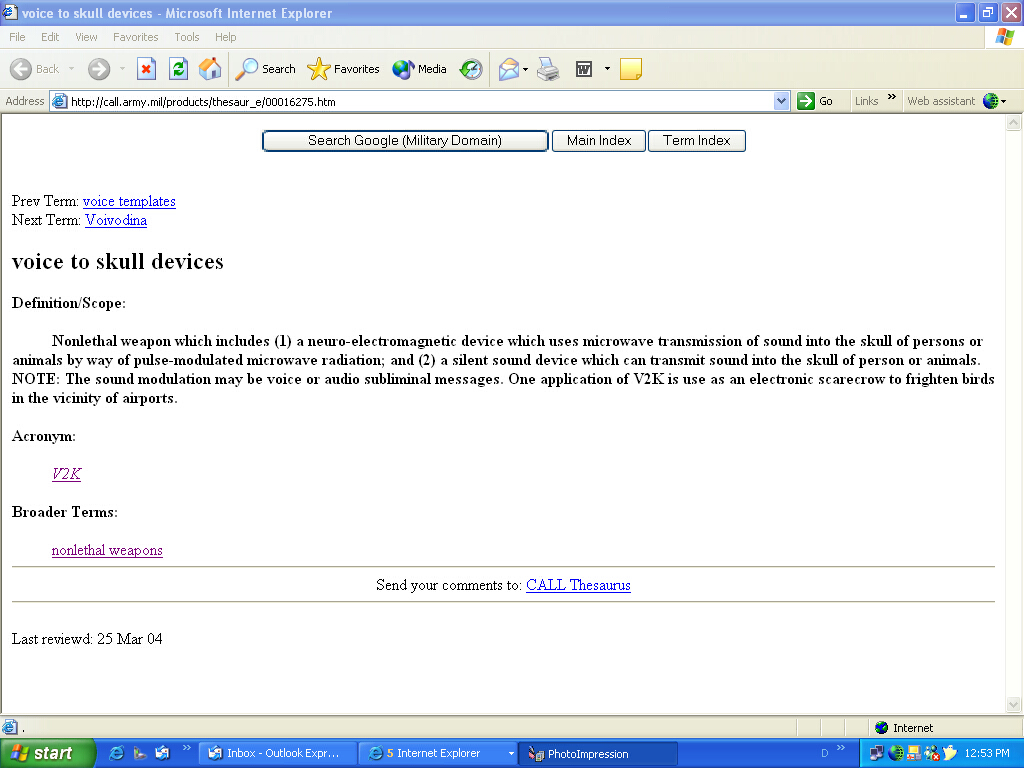 ---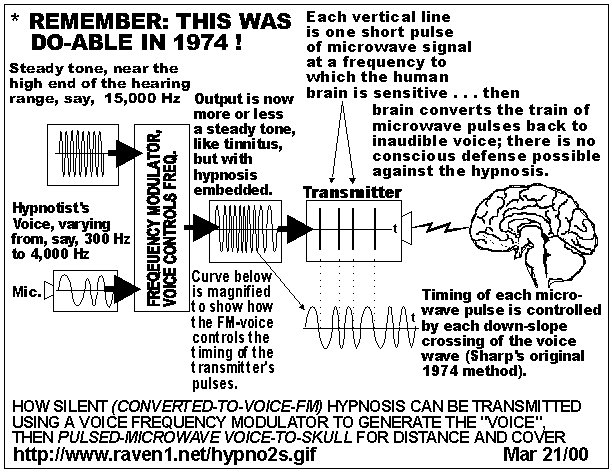 The Army's very strange webpage on « Voice-to-Skull » weapons has been removed. It was strange it was there, and it's even stranger it's gone. If you Google it, you'll see the entry for « Voice-to-Skull device, » but, if you click on the website, the link is dead.
The entry, still available on the Federation of American Scientists' website reads:
Nonlethal weapon which includes (1) a neuro-electromagnetic device which uses microwave transmission of sound into the skull of persons or animals by way of pulse-modulated microwave radiation; and (2) a silent sound device which can transmit sound into the skull of person or animals. NOTE: The sound modulation may be voice or audio subliminal messages. One application of V2K is use as an electronic scarecrow to frighten birds in the vicinity of airports.
The U.K.-based group Christians Against Mental Slavery first noted the change (they also have a permanent screenshot of the page). A representative of the group tells me they contacted the Webmaster, who would only tell them the entry was « permanently removed. »
The image above is one person's self-styled depiction of how a « voice-to-skull » weapon might work.
[Image: Raven1.net]
ALSO:
---